Description
MOUNTING SOLUTION WITH A SLEEK DESIGN

Thinkware Dash Cam Plugin offers a simple solution for mounting and dismounting your dash cam
while maintaining a sense of sharpness and sleekness in design.
Using a C-Type Connector Cradle, it allows the dash cam main unit to securely mount
onto the plugin mechanism and powers the dash cam main unit from the plugin mechanism itself.

SAFE AND SECURE CONNECTING MECHANISM

The dash cam can be neatly mounted onto the windshield as the dash cam main unit perfectly clips into
Thinkware Dash Cam Plugin. Instead of using magnetic power connectors or screws,
it uses a connecting mechanism embedded within the Connector Cradle for a secure and safe connection.
This ensures that the dash cam records video footage properly and stays on the windshield in the event of a crash.

* Take caution when unplugging the dash cam main unit from the connecting mechanism as it is tightly fastened onto the main unit.
* Do not twist the dash cam main unit as this may cause damage to the connecting mechanism.
PRICE EXCLUDES VAT @ 20%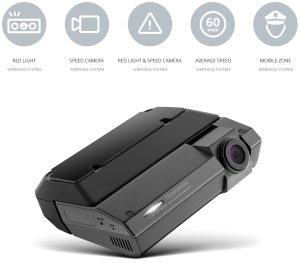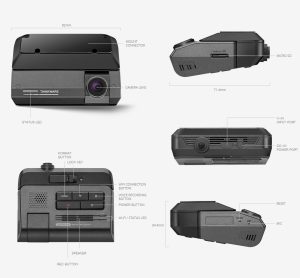 General Specifications
Dimension
92 x 53.3 x 29.7 mm (3.6*2.1*1.16 inch), Including Cradle Mount 92 x 71.4 x 34.4 mm
Weight
77.6g (0.17lbs) Including Cradle Mount (169.4g)
Package Contents
Main Dash Cam Unit, Mount with 3M tape (1ea), Cigar jack cable, Adhesive Cable Holder(3ea), Micro SD memory card with adapter(consumable), Quick Start Guide/Warranty Card
DETAILED SPECIFICATIONS
Detailed Specifications

| | |
| --- | --- |
| Camera | Front: 2.1M CMOS Sensor, Rear: 2.12M Image Sensor |
| Resolution | Front: Full HD (1920 x 1080P) Rear: Full HD (1920 x 1080P) |
| Viewing Angel | Front: 140° (Diagonal), Rear: 160° (Diagonal) |
| Capacity | Micro SD Card 16GB / 32GB / 64GB / 128GB UHS-I |
| Recording Modes | Continuous Recording, Incident Recording, Manual Recording, Audio Recording, Energy Saving |
| Sensor | 3-Axis Accelerometer G-Sensor (3D, ±3G) |
| GPS | Built-in GPS |
| Wi-Fi | Built-in Wi-Fi (2.4GHz / 5GHz) |
| Power | DC 12 / 24V supported |
| ETC | Wi-Fi LED / STATUS LED |